Corporate Flowers
At Fleur and Blume, we create exceptional designs exclusively tailored for individual businesses. Specialists in creative and commercial floristry, we understand the needs of corporate clients as well as the world of floristry.
Exceptional Corporate Flowers
No matter what you wish to say, flowers can say it for you. It is widely known that with the right florist, flowers and plants in the workplace is beneficial to business, team members and clients.
So what can flowers do for your business? Glad you asked...
Create a positive and warm impression.
Improve the presentation of your offices and meeting rooms.
Enhance and promote your corporate identity.
Improve the environment and productivity.
Distinguish you from your competitors.
Flowers say you are good people to do business with.
Excellent gift for the perfect thank you.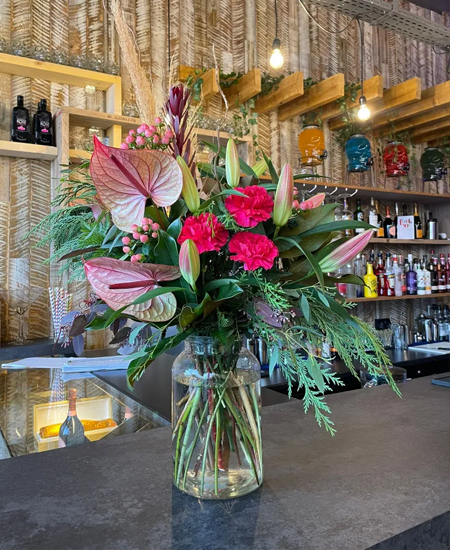 First Impressions Count
A warm welcome will directly affect the health of your business and flowers can differentiate you from your competitors. A weekly installation on your reception desk will provide a warm welcome and make customers and clients feel comfortable.
We can enhance and decorate all areas within your business premises, not just the reception area. Whether that's some bud vases in individual offices or a bigger arrangement in the conference or board room to bring life and colour to these areas.
For large corporate organisations, flowers on reception symbolise a successful company and breakdown the hard, faceless image often associated with larger corporations.
For smaller business, reception flowers show a pride in the company and attention to detail which is so often the strength of a smaller business.
As we depend more and more on technology, flowers and plants in an office bring nature indoors. Science proves they are not only good for our health but improve the working environment and increase performance levels and staff morale.
Corporate events – we can elevate your corporate events to really show your clients who they are dealing with and how successful your are, whether we are creating flowers for a gala dinner or a conference event, F&B have great creative ideas to make any business event stand out from the crowd.
Corporate Flowers Local
Flowers make the ideal gift for team or client birthdays and celebrations, and is there a better way to thank a client for their business than with a gorgeous bouquet hand-made and personally delivered?
Flowers are a great way to calm the waters too, show that you care for your clients when a mistake happens. Turn a situation around and make that client relationship even stronger with flowers from F&B.
What better way to reward staff who exceed your expectations or go the extra mile than a surprise gift?
We can arrange local, national and international delivery of a wide range of gifts 6 days a week.
So why choose Fleur and Blume? Flexibility and Versatility are the hallmarks of a skilled florist as well as understanding the use of varying styles and types of flowers to give an endless selection of designs. For maximum impact and cost efficiency you need a specialist florist who understands the needs of a business as well as the world of flowers and that is where we come in. We can create and exceptional range of designs and arrangements exclusively tailored to meet your individual needs.
Call or get in touch now for a no obligation quote and visit to discuss the many options for your business. We are so confident in our fresh flowers we may even give you a sample design to test our product and see the quality, longevity and impact for yourselves.